The NBA season begins October 22nd with the New Orleans Pelicans with rookie phenom Zion Williamson (injured) vs the defending champs Toronto Raptors, and the battle for LA with the Lakers vs. the Clippers. With many teams having All-star duos or young rising stars it makes this season one of the most anticipated in years past. The balance in the NBA was restored when Kevin Durant left the Warriors to go to the Nets. The NBA being a Lebron James Cavs team vs the Warriors Dynasty is over and every NBA team has a chance now. In this preview I will go through the young cores in the NBA you need to follow and a few teams to not watch. I will select my NBA awards predictions and will also select my NBA playoff teams and pick my NBA finals matchup.
Teams to watch: Young Cores
Atlanta Hawks– The best young core in the NBA are the Hawks even though I like the Pelicans more after Trae Young rookie season and the youth movement (except for Vince Carter) in Atlanta is a good one. Next to Trae is Kevin Huerter who also had a solid rookie season a year ago. John Collins going into his third year is ready to make another leap in his game. Add this year 2 top 10 picks with Deandre Hunter and Cam Reddish Hawks future looks bright.
New Orleans Pelicans- Life after Anthony Davis might not be too bad in New Orleans with the young core they have now. In the big offseason trade, the Pelicans got Lonzo Ball, Brandon Ingram, and Josh Hart. In the Draft, the Pelicans got Phenom Zion Williamson, Jaxson Hayes, and Nickeil Alexander-Walker. As while signing JJ Reddick and Derrick Favors the Pelicans have a great core and could make a run for the playoffs in the tough tough west.
Chicago Bulls- If the Chicago Bulls could stay healthy they would have playoff expectations in the east. In the Jimmy Butler trade, they got Khris Dunn and Zach Lavine have been battling injuries in their young career but when they are on the court they show promise. The Bulls also added big man Wendell Carter Jr. and Lauri Markkanen in recent years who have shown to be young stars. They also added North Carolina guard Coby White to help the Bulls future.
Grizzlies/Kings- The last young core I chose is two teams that have their guard/big man combo for the future and trying to find the right pieces around them. First, the Grizzlies who now in the Post-Conley era after drafting Ja Morant with the 2nd pick. Grizzlies last year drafted Jaren Jackson Jr. who was a first-team all-rookie player a year ago. The other young duo to watch will be De'aaron Fox who proved that can lead a team last year and his big man Marvin Bagley III who also was a first-team all-rookie player last year. Both of these teams will struggle in the west but one day these Duos will dominate the league.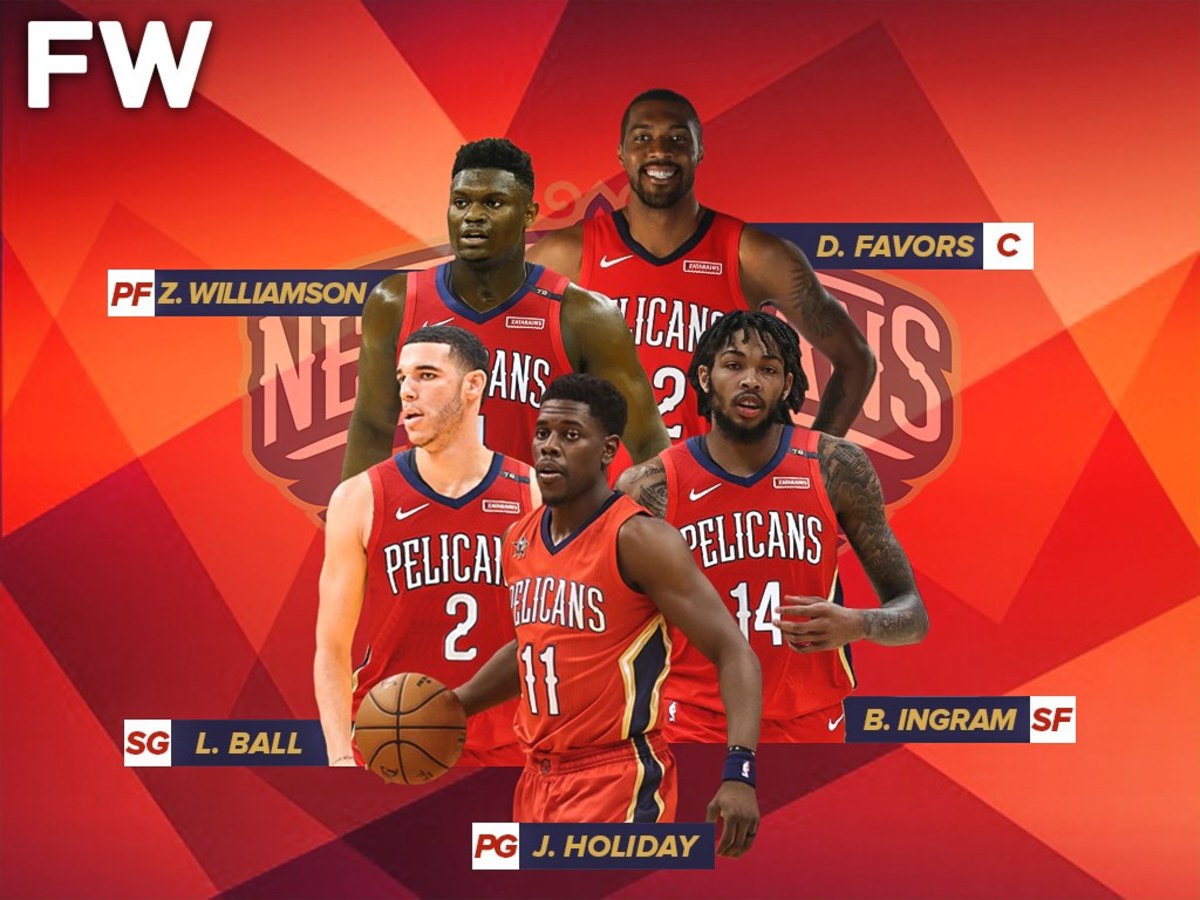 Teams not to watch: Questionable teams
OKC Thunder- Since Damien Lillard ended OKC season last season they blew up their roster with trading Paul George and Russell Westbrook. OKC has also been trying to trade Steven Adams and Chris Paul. OKC has plenty of draft picks to build around Shai Gilgeous-Alexander who was a key player in the Clippers playoff run last season. OKC will be good after they used all these draft picks but this year and next year will be rough to watch.
Phoenix Suns– Suns do have a good young duo to build around in Devin Booker and Deandre Ayton; another First-team all-rookie player from last year. But other than that the Suns have nothing. In my draft recap, I said they made some interesting moves and moves that didn't help them. If the Suns landed D'Angelo Russell they would be on the young cores to watch list instead of this one but, the Suns got Ricky Rubio. It will be another long season down in AZ.
New York Knicks– I like RJ Barrett on this team with Knox, Robinson, and Trier who were all surprising stars from last year's draft class. I don't like the Knicks signing 4 power forwards to big contracts with Randle, Portis, Gibson, and Morris. I get they wanted to make big moves but overpaying for a bunch of bigs isn't the best move. Dennis Smith Jr. is ready for a new start in his career and the Knicks mix of young payers and veterans could allow them to get into the playoff mix in the East. If I am a Knicks fan I'm waiting for these contracts to run out and Barrett and company develop in a couple of years.
Washington Wizards- Since John Wall feel down his steps in his house and tore his Achilles it has not been good for the Wizards. Bradley Beal is an NBA All-star but he can't do it on his own which is the case right now. Wizards drafted Rui Hachimura who should help a little bit but that's tough to ask for from a rookie. Wizards need to hit the restart button and get why they can for Beal.
Cleveland Cavaliers- Don't expect too much from the Cavs with a new coach during a rebuild with veterans contract. Veterans include Thompson, Love, Dellavedova, and Clarkson to go with the future of Collin Sexton and Darius Garland will make it another long season since Lebron departure.
Charlotte Hornets- Kemba was the only team last season and Terry Rozier is trying to fill his shoes. Monk and the other young stars who haven't pan out yet needs to step up. Except for Michael Bridges, I don't except any of these guys to step up and it will make people think if Micheal Jordan should be an Owner.
Awards Predictions
Kia NBA Most Valuable Player– Bucks Giannis Antetokounmpo, Giannis is going back-to-back even though his exceptions are high he will live up to them with the shooters around him. With Kawhi out of the East Giannis is easily the best player and will dominant every team the Bucks play. If I had to make another pick I would pick Steph Curry, With KD gone and Klay hurt Curry has to take over again and get back to his MVP seasons to give the Warriors a chance. All other MVP options are in powerful duos which will hurt their numbers and their MVP chances. Lebron should be MVP every year but his exceptions are through the roof.
Kia NBA Rookie of the Year– Pelicans Zion Williamson, Anyone that doesn't pick the Duke Phenom Zion is lying to themselves. Zion took over the college basketball world a year ago and became the 1st pick in the draft. I want to go with is Duke teammate RJ Barrett since he will be the Knicks' best player and their sole option. While Zion exceptions will be an All-Star from the start which is hard to live up to. Zion dominated in college and I except the same in his rookie season. With Zion being sideline for 6-8 weeks will make it difficult for him to win, but I think Zion will be able to win it when he returns. If he doesn't i'm picking RJ Barrett.
Kia NBA Sixth Man Award– Nets Spencer Dinwiddie, It seems like Lou Williams wins this award every year but with Paul George and Kawhi coming to town, I believe too much attention will be on LA which will allow someone else to win this award. I'm picking Spencer Dinwiddie who was 2nd a year ago in the voting and is the perfect backup for Kyrie Irving.
Kia NBA Defensive Player of the Year- Clippers Patrick Beverley, Beverley locked down Durant in last year's playoff series and with defense studs Kawhi and Paul George coming to LA it will allow Beverley to lock up every guard in the league. It's hard to pick Rudy Gobert is going for a three-peat in this award and Lakers Anthony Davis needs to stay healthy and guard opposing teams best post with Cousins hurt.
Kia NBA Most Improved Player– Pelican Lonzo Ball, Say what you want about Ball and his family but with him not wearing BBB shoes; which he had to change every quarter, a fresh start with the Pelicans and video of his new jump shot will allow him to become the star everyone excepted out of UCLA. My other pick would be the guy drafted after Ball who had a rough second year after a great rookie season. With Kyrie gone I believe it will allow Tatum to step up.
NBA Coach of the Year– Clippers Doc Rivers, Doc Rivers, and the Clippers battle hard against the Warriors dynasty and added Finals MVP Kawhi and MVP finalist Paul George to the roster. Doc Rivers is the best coach in the league and now has one of the best lineups in the league. My second choice would be Jazz Quinn Snyder replacing Rubio with Mike Conley helps Utah became a quiet contender in the league and Snyder can lead this team to the top of the west.
Playoff Teams
East- Bucks, 76ers, Celtics, Nets, Pacers, Raptors, Heat, Hawks
Playoff teams- Without getting too much in-depth I will go through why I pick each of these teams to make the playoffs and a quick recap of the teams that haven't been mention in this article yet. To start with the Bucks have the best player in the East in Giannis and shooters. The 3 other Finals contenders are 76ers, Celtics, Nets. 76ers lost Butler but with adding Richardson and Holford with Embiid and Simmons puts them back in this group. Celtics with Kemba, Tatum, Brown, and Hayward make them a contender for a while. Lastly, the Nets who with Durant would be the favorites, still have Kyrie with Dinwiddie, Levert, Jared Allen, Deandre Jordan, and Joe Harris are still a top option in the East. The rest of the playoff teams are the Pacers, Raptors, Heat and the Hawks. The Pacers with Oladipo and Turner have a good enough supporting cast to almost be a contender in the east and will cruise into the playoffs. The defending champions Raptors will struggle without Kawhi but still will make the playoffs. The Heat added Jimmy Butler and rookie Herro will be better than expected will allow the Heat to easily make the playoffs. Rounding out the playoff with being the Hawks with there young core and Alex Len, Evan Turner, and Allen Crabbe will make the playoffs in the weak East.
Others- 2 playoff teams from a year ago that I have missing the playoffs this season is the Orlando Magic and the Detroit Pistons. With the Magic having question marks with Markelle Fultz ability and D.J. Augustin getting older. They need to rely on the there big man of Aaron Gordon, Mo Bamba, and Nikola Vucevic. Detroit has a similar problem with stud big man Blake Griffen and Andre Drummond but struggling guards of Reggie Jackson and Luke Kennard. The Pistons are expecting big things from former MVP Derrick Rose who should he had some left in the tank a season ago.
West- Lakers, Clippers, Jazz, Nuggets, Rockets, Trail Blazers, Mavericks, Pelicans,
Playoff teams- Without getting too much in-depth I will go through why I pick each of these teams to make the playoffs and a quick recap of the teams that haven't been mention in this article yet. The wild wild West is loaded with teams and many good teams will miss the playoffs. First the two biggest contenders the teams in LA. The Lakers landed Anthony Davis and Danny Green this summer and with Lebron James that makes them automatic Finals contender. The Clippers landed the two biggest names in Kawhi Leonard and Paul George to go along Beverley, Lou Williams, Zubac, Harrell, and Green who played tough against the Warriors last season. The next two contenders are smaller markets team with the Jazz and Nuggets. The Jazz with Mike Conley, Mitchell, Gobert, Ingles, and Bogdanovic make the Jazz a playoff-bound team. Next, the Nuggets with the "Joker" Jokic and Murray surrounded by plenty of talent are another playoff lock. The biggest question mark team going to the season is how former teammate Westbrook and Harden going to play together now that they both are MVP players. I believe they both want to win now and will gel nicely to make the playoffs and make a run. The next two teams are led by a powerful duo that will carry them in the west into the playoffs. The Trail Blazers led by Lillard and McCollum added Whiteside to get them a physical presence. The Mavericks led by Rookie of the Year Luka Doncic and the unicorn Porzingis will them another playoff team. Lastly, the Pelicans for all the reasons listed in the teams to watch list will sneak into the playoff with Star Zion.
Others- I know where are the Warriors, missing the playoffs. Hear me out KD is gone, Klay is out till February, D'Lo and Curry have to learn to play together and neither play defense, Iggy and most of the key bench players are gone. With all of that being in the West I believe that they are watching the playoffs on the couches in their new stadiums. Another shocker the Spurs, hear me out on this one too, even with Aldridge, Murray coming back from his ACL, DeRozan, Gay and coach Pop I just think the playoff run the Spurs have been on is coming to an end. They could easily make it instead of the Pelicans but I'm going with Ball and Zion. Lastly the Wolves, with no more Jimmy Butler drama and adding Culver will help the Wolves improve but with questionable play from Teague and Wiggins will make the Wolves miss another post-season.
Finals Matchup: Clippers vs Bucks
I'll keep this one short and simple, the Bucks will make it easily out of the east with Kawhi going to the west, Giannis will be Lebron-like walk to the finals. The biggest playoff series will be the battle for LA with the Lakers and Clippers. I'm going with the Clippers with the deeper bench, better defense and Kawhi and Paul George are both in there prime right now. Lebron will put up a good fight with finally having an offseason since they miss the playoff and his teammates with another star in Davis. Doc Rivers Clippers will be too much for the King and LA will become Clippers town. Wish the Lakers vs. Clippers could be the Finals but they are both in the west so Clipper vs. Bucks. Kawhi with another finals MVP and championship with two different teams will keep him trending in the All-time players' list. Finally note: at least the Warriors Dynasty is over and the NBA is finally great again.
Winner: Clippers Finals MVP: Kawhi