The best debate in college football is the best college football quarterbacks of all-time are. In my list will be only Power-5 QB (will also do non-power 5 QBS) and look at a QB career. Cam Newton and Johnny Manziel had unbelievable season but were one year wonders. To me it show more from a guy that dominated for 3-years or 4-years. In my top 10 ranking I will talk about each guys stats and achievements and the most important reason which put them on this list. In a few years i'll have to add Clemson Trevor Lawrence on the list who went undefeated as a true freshman and won the National championship. My list is since 2000, since before that I have little knowledge of those old days and the game as change so much since the 90s. Guys who just missed the list are Robert Griffin III, Luke Faulk and Aaron Murray. Who all could easily make an argument for this list but RG3 got replaced by Lamar Jackson. Luke Faulk and Aaron Murray numbers aren't quite as good as Graham Harrell.
10. Graham Harrell
Texas Tech best QB ever Graham Harrell lands at number 10. Yes, Harrell, not the NFL MVP Patrick Mahomes who is the best QB currently in the league who threw 11,252 yards in college, 93 touchdown, 29 picks, and holds the NCAA record for 734 passing yards in a game. Graham Harrell 15,793 passing yards (4th), 134 touchdowns (3rd), holds 8 NCAA individual records, Heisman Finalist, and the first player to throw for 5,000 yards in a season. The Big 12 record-breaker that was co-player of the year with Sam Bradford and Colt McCoy only played 3 seasons but his name is all over Texas Tech, Big 12, NCAA record books for throwing the ball. The current USC offensive coordinator was one of college football best passers after not making it in the NFL he got into coaching in 2014.
9. Landry Jones
The guy that took over for Heisman winner Sam Bradford when he went down with a shoulder injury was freshman Landry Jones. Jones's career was shaky sometimes and won a big 12 conference championship and a share of a one in his senior season. Jones had some rough games in his career following in Bradford shoes but he put up big numbers in his 4-year career. Jones finish with 16,646 (3rd) and 123 touchdowns (7th) in his OU career. Jones made this list throwing for 4,000 yards and 30 touchdowns each of his last three seasons allows his stats to skyrocket even though he didn't win many awards. Jones benefited playing for a Big 12 offense and having a big arm. Jones was the Steeler's backup for 4 years before being cut and after a couple of other quick stops, he became the first player to sign with the XFL.
8. Lamar Jackson
The only guy that didn't go to a big-time school on this list is Louisville Lamar Jackson. At Louisville Lamar threw for 9,043 yards, 69 touchdowns, 27 picks, ran for 4,132 yards, 6.3 per carry, and 50 touchdowns in 3 years. Lamar became the youngest player ever to win the Heisman Trophy, as while as youngest to start a playoff game in the NFL. Louisville struggled his junior year but his stats allowed him to finish third in the Heisman voting. Lamar Jackson is one of the most dynamic players in college football history with his running and throwing ability. His Sophomore year debut against Charlotte 49ers he scored 8 total touchdowns in the first half. NFL teams suggest he switch positions but he stayed at QB and got drafted with the 32nd pick by the Ravens. The playmaker Jackson took over for Joe Flacco to finish his rookie season and putting any doubt that he can throw the ball away this season throwing for 5 touchdowns to start this season.
7. Colt McCoy
The man that won the starting job after Vince Young won Texas a National Championship was redshirt freshman Colt McCoy. In McCoy career, he threw for 13,353 yards, 112 touchdowns, 45 picks, rushing for 1,596 yards, and 20 rushing touchdowns. McCoy became a household name after a historical freshman year throwing for 29 touchdowns (tied record) and being the Big-12 Freshman of the year. McCoy finish 2nd in the Heisman voting his junior year and third in his senior season. The two times Big 12 player of the year brought Texas to the National Title game his senior year and injured his shoulder the first series and miss the game losing to Alabama. McCoy was 45-8 as a starter which is the 2nd most wins by a QB in his career and his number 12 is retired by Texas. In his senior year, he won 13 of the top 15 major college player awards including Maxwell Award, Davey O'Brien, Manning Award, and many other honors. McCoy holds most of the school's records and some Big 12 records will always be remembered as one of Texas all-time greats. McCoy was drafted in the third round by the Browns and got playing time but never played up to what the Browns needed. He later landed on the Redskins in 2014 where he still on and has been the starter this season since Keenum injury.
6. Deshaun Watson
The man that started Clemson dynasty in 2015 led them to back-to-back championships was Deshaun Watson. Watson had little playing time as a freshman but became the starter in 2015 and never looked back. Watson passed for 10,168 yards, 90 touchdowns, 32 picks, and he also ran for 1,934 yards, 4.4 per carry, 26 touchdowns. The Clemson legend led them to a 12-0 start and a number #1 ranking going into the playoffs. After beating the Sooners they came up short in the National Championship against Alabama. After the season Watson was named ACC player of the year, Consensus All-American, Manning Award, Davey O'Brien Award and finished third in the Heisman voting. In his junior year, Watson got revenge against Bama and threw a last-second winning touchdown to Hunter Renfrow ending Clemson's three-decade Championship drought. After his junior year, he was voted Best Male Athlete ESPY Award, Manning Award, Davey O'Brien award, Second Team All-ACC, ACC Athlete of the year, and Heisman runner-up (Lamar Jackson). Watson pass on a senior year and was drafted 12th by the Houston Texans and looks likes one of the best young QB in the NFL. In 27 starts Watson has 56 touchdowns, 7,228 yards, 18 picks, and 10 rushing touchdowns. Watson holds some NFL and some Texans records early in his career and hopes to continue his success in the NFL for years to come. While you are watching Watson on Sundays, don't forget about his superior Clemson career which tops off with a game-winner to defeat Bama for the Championship.
5. Baker Mayfield
The first former walk-on Heisman Winner, number 1 pick, 2 time Big 12 player of the year, Maxwell award winner, Colin Cowherd most hated player and lastly the legend that planted Oklahoma flag in the middle of the "O" at Ohio State after a victory Baker Mayfield. Mayfield's career started with him walking on at Texas Tech and becoming the first walk-on true freshman to start a season opener. In two games baker had 780 yards and 7 touchdowns already but injuries and losing the job to Davis Webb. Baker then announced that he would be transferring because of "miscommunication" in the coaching staff and he enrolled at Oklahoma in the spring but didn't contact the coaching staff. Oklahoma coach Bob Stoops confirm he was walking on but he was ineligible for 2014 season and would lose a year of eligibility for transferring within the Big 12. In 2015 Mayfield beat out Trevor Knight for the QB job and led Oklahoma to the college football playoffs where they lost to Watson's Clemson team. Mayfield finished with 3,700 yards and 36 touchdowns which help him finish 4th in the Heisman voting. His junior year in a battle with future NFL MVP Patrick Mahomes who threw for 734 yards and 5 touchdowns while Baker threw for 545 yards and 7 touchdowns in a game that broke many passing records. A Sugar Bowl win and another trip to the Heisman ceremony (3rd) with teammate Dede Westbrook finish out the season. The "Baker Mayfield " rule allowed him to play another season, Baker argued that he shouldn't have to sit out when he transferred because he was a walk-on not a scholarship player and he shouldn't lose a year of eligibility. Even though Baker lost his appeals, in 2016 the Big 12 voted and approval 7-3 vote that players without scholarship offers can transfer without losing a year of eligibility. Baker senior year he led Oklahoma to their 3rd straight Big 12 title, another college football playoff lost to Georgia and he finally won the Heisman Trophy. Baker in the NFL broke the rookie passing touchdown record in 13 starts and looks like he could be the QB of the Browns future. Baker had a historical career at OU finishing with 14,607 yards, 131 touchdowns, 30 picks, 21 rushing touchdowns, and many awards.
4. Vince Young
Vince Young career isn't like many on this list for being a 3/4 year starter with many awards and I know I said no one-year wonders but Vince could have came back his senior year after ending USC Dynasty. Vince Young shared time with Chance Mock before winning the starting job his redshirt sophomore year. Young with 11-1 (L to Oklahoma) and defeated Michigan in the Rose Bowl finishing with a top 5 ranking. Vince senior season Texas change from the I-formation to the Shotgun allows Vince to take over the offense more. Texas went 11-0 and was ready to face off against USC on their 34 game winning streak. In the game of the decade, Vince Young accounted for 467 yards and 3 rushing touchdowns including the game-winner on 4th down with 19 seconds left. Vince Young finish 2nd in the Heisman voting to USC Reggie Bush, won the Davey O'Brien Award, #10 retired, many BCS/Texas records, and finish with a 30-2 record as a starter. Young finish with 6,040 yards, 44 touchdowns, 28 picks, 3,127 yards, and 37 rushing touchdowns. Vince Young became the first player in Division 1 to pass for 3,000 and rush for 1,000 yards in the same season. Vince decided to enter the NFL draft and not return to Texas which allowed Colt McCoy to take over. Vince was the third overall pick (over USC Matt Leinart) to the Titans and his rookie season went 8-5, won rookie of the year, and selected to the Pro Bowl. Then he was on the Madden Cover of one the best Madden of All Time Madden 08. The Madden Curse then got him with throwing 17 picks compare to 9 touchdowns the next season, and then a knee injury lost him the job in 2008 season. After going 0-6 Young took over and won 8 of the last 10 finished 3rd in Comeback player of the year and making the Pro Bowl after some injuries. After a 4-5 start Young had a thumb injury eventually ending his career after a few camp stops and official retiring in 2014. Vince will always be an all-time legend in college with his running and throwing ability and despite not playing his senior year his career will never be forgotten for dethroning USC.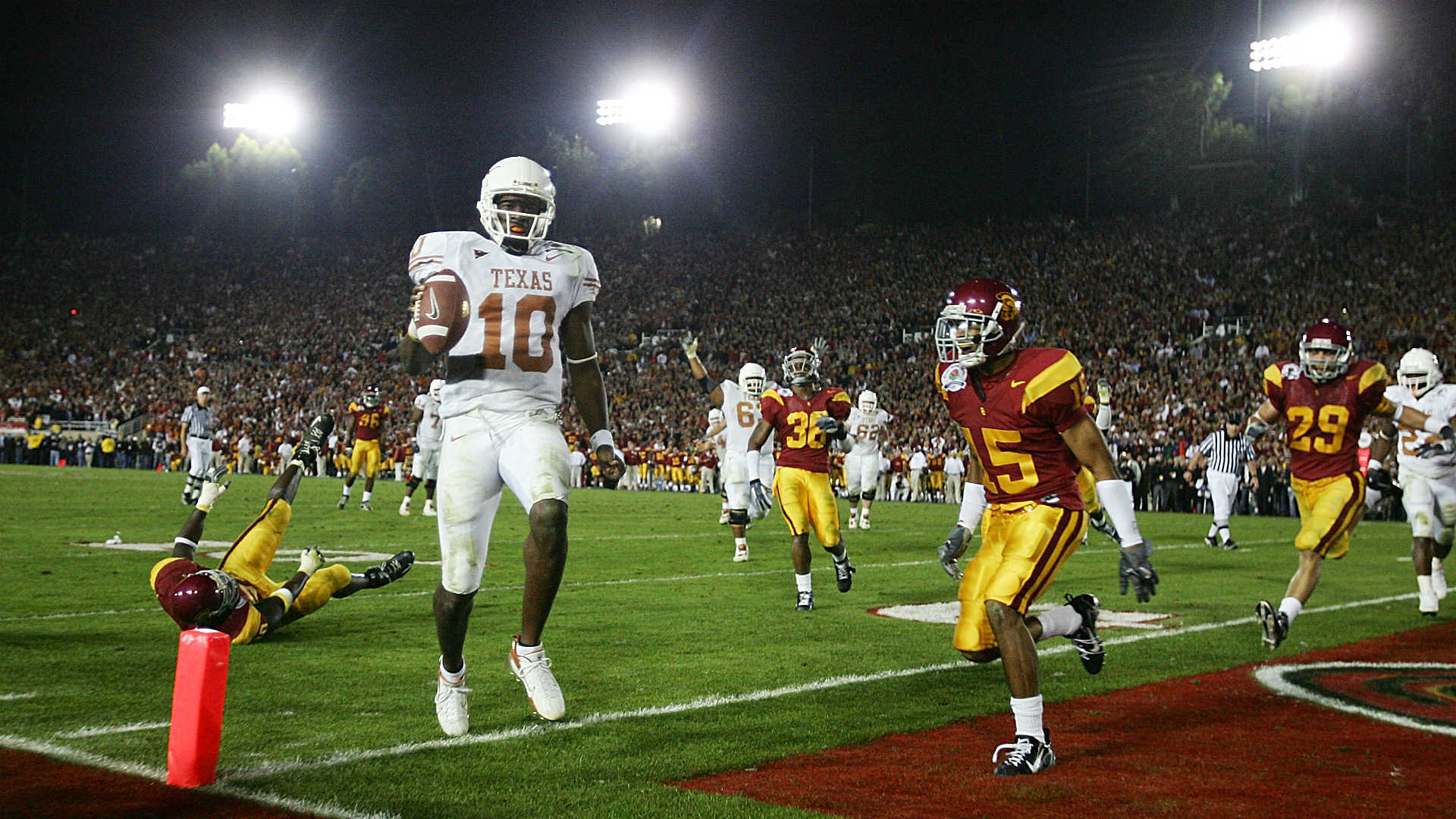 3. Marcus Mariota
The Oregon legend, Heisman winner, Manning award, unanimous All-American, Player of the Year, 3x First-Team All-Pac 12, Pac-12 Freshman of the year, and even though he was heavily recruited out of Hawaii he only had 2 scholarships offer. Mariota took over as a redshirt freshman in 2012 where against Arizona State he showcase his abilities caught a touchdown pass, threw a touchdown, and run for a 86 yard touchdown with 12 minutes left in the first half. In his Junior season Mariota led Oregon to the playoffs where they defeated Winston Florida State team. In his last game a lost to Ohio State Mariota was set to clinch the All-time lowest interception record until Eli Apple picks it off with 27 seconds left. Mariota then enter the draft forgoing his senior season after going 36-5 in his career. Mariota finish his carer with 10,796 passing yards, 105 touchdowns, 14 interceptions (only 4 each of his last two years), 2,237 rushing yards and 29 touchdowns. Mariota holds the Pac 12 record for total touchdowns:135, single season total offense:5,224, single season touchdown record:58, freshman passing touchdown:32, and the best one to have passes without an interception:353. Mariota became the 2nd pick to the Titans after Winston went to the Bucs. Mariota has set many Titans franchise record and some NFL records. When you are watching Mariota with the Titans you can't forgot his Oregon days when he brought Oregon to the next level and everyone wanted one of Oregon flashy jerseys. If you picked him off in College hopefully you kept it because it didn't happen often.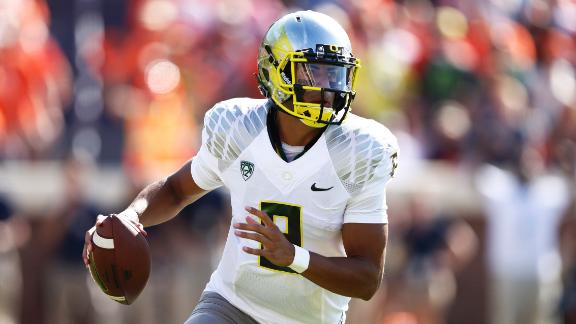 2. Matt Leinart
The man that took over for the USC Dynasty and was 37-2 and won a Heisman Trophy, and a National Championship. Leinart won the starting job after Carson Palmer won the Heisman and went to the NFL. In his first season as QB led USC to an 11-1 record and was left out of the BCS Championship game and defeated Michigan in the Rose Bowl and Leinart was named Rose Bowl MVP. He also finishes 6th in the Heisman voting. In Leinart Junior season they played Oklahoma with Heisman winner Jason White which is the first time two Heisman winners face off. Leinart and Reggie Bush were too much for the Sooners and USC won the championship and their 22nd in a row. Leinart returns for another season and once again got to the title game against Vince Young Texas. Leinart finished third in the Heisman voting being Young, and Reggie Bush and we know how the Texas game went with Young Walk-off ended Leinart and USC 34 game winning streak. Leinart finished his college career with 10,693 yards, 99 touchdowns, 23 picks, and 9 rushing yards. Leinart was drafted with the 10th pick by the Cardinals and was suppose to take over for Kurt Warner but never performed up to standards. After a couple of other stops, Leinart was officially out of the league and is currently a studio analyst for Fox Sports college football with former teammate Reggie Bush. When you think of college football greatest Dynasty you think of USC streak and their great offense led by #11 retired jersey of Matt Leinart.
1. Tim Tebow
The Man, the myth, the legend, without a doubt number 1 on any college football All-time list Tim Tebow. Tebow was featured in an ESPN documentary "The Chosen One" in high school and featured in Sports illustrated "Face in the Crowd". Tebow already with many eyes on him going into the college at the University of Florida. In his freshman year, Tebow would contribute off the bench being behind senior Chris Leak. Tebow would go on to help the Gators win the National Championship where he would throw a touchdown and run for you. Tebow rush for 469 yards second-most on the team and ran 8 for a score. Tebow then became the starter and finish the season with first-team All-SEC, consensus first-team All-American, and became the first true sophomore to win the Heisman Trophy. Many questioned his throwing ability but he finished 2nd in passing efficiency in the nation with 177.8 while averaging 4.3 per carry. In the next season, Tebow broke Emmitt Smith's career rushing record at Florida. After beating Alabama for the SEC championship, the Gators would go on to beat Oklahoma Sooners for Tebow 2nd National Championship. Tebow finish the season third in the Heisman voting, won the Maxwell award (2nd player to win the award twice), and at the national championship celebration, he announced he was coming back for his senior year. In his senior year battling through sickness and injuries, Tebow led the Gators to the SEC Championship once against Alabama but came up short this time, losing their chance at another national title. At the end of Tebow career, he held 5 NCAA, 14 SEC, 28 Florida records. He was SEC all-time leader in passing efficiency (170.8), completion percentage (67.1%), passing touchdown to interception ratio (5.5 to 1), rushing yards by a QB (2,947), rushing touchdowns any position (57) total touchdowns (145), and most consecutive games in which he threw at least one touchdown and one rushing touchdown (14 games). Another guy that had a rule named after him the "Tim Tebow" rule called by the media banned messages on eye black after Tebow wrote John 3:16 on his eye black in the National Championship. The verse had over 90 million google searches the next 24 hours after the game. Tebow was drafted with the 25th pick by the Broncos and had a roller-coaster NFL career, and has been trying to make it to the MLB. When Tebow not hitting dingers he can be seen broadcasting on the ESPN network. Tebow NFL career didn't go as planned but Tebow Mania took over the college football world in Gainesville and is a college football icon.