The MLB season is coming to an end, and what a year it has been for some players and teams. We have seen more home runs than ever before the season record for a team was 267. The Minnesota Twins and New York Yankees will finish the season with over 300 home runs and many teams will finish past the previous record. I will go through each of baseball post-season awards and who I believe will win each other. I won't select Gold Glove winners or Managers of the Year. I will also make my World Series prediction and who will win.
AL MVP- Mike Trout
Mike Trout is the highest-paid player and prove why he is all season long. Mike Trout should be a unanimous winner because there is no player close to him. Before Mike Trout had his season injury, he was hitting .291, 45 home runs, 104 RBI, and had a .438 On-base percentage. Even though the Angels won't make the playoffs without Trout they may be on the Detroit Tigers level. Mike Trout is the Lebron James of the MLB, he can do it all, is currently the face of the league and deserves to win MVP every year.
NL MVP- Cody Bellinger
The NL MVP is as close as it can get between Cody Bellinger and Christian Yelich. Bellinger currently batting .302, 46 Home runs, 114 RBI, and more walks and fewer strikeouts then Yelich. Yelich is currently batting .329, 44 Home runs, 97 RBI, 30 stolen bases (14 Bellinger), and a better On-base percentage, and Slugging percentage. This is the hardest award to pick, both guys deserve it and been having an unbelievable season. I want to give it to Yelich but his injury and the Brewers are having some success without him makes it hard to pick him. Bellinger has been the best player on the best team and his WAR (wins above replacement) is at an 8.6 (Yelich 7.1), which is even higher than Mike Trout (8.3). Bellinger will walk away with this awards since he plays for the best team in baseball and having a great season.
AL ROY- Yordan Alvarez
I wanted to give Vlad Guerrero Jr. this award but after show casing his power in the MLB All-star Derby, he has had a disappointing season. Yordan Alvarez got thrown into the Astros lineup in June while they were having injuries problems and he never looked back. Yordan since his MLB debut June 6th has been hitting .326, 27 Home runs, 77 RBI, and a .422 On-base percentage. Alvarez had all the pressure hitting in the middle of one of the best team in baseball lineup. Alvarez is just the next star out of the Astros farm system and will help the Astros to try and win their 2nd title in 3 years.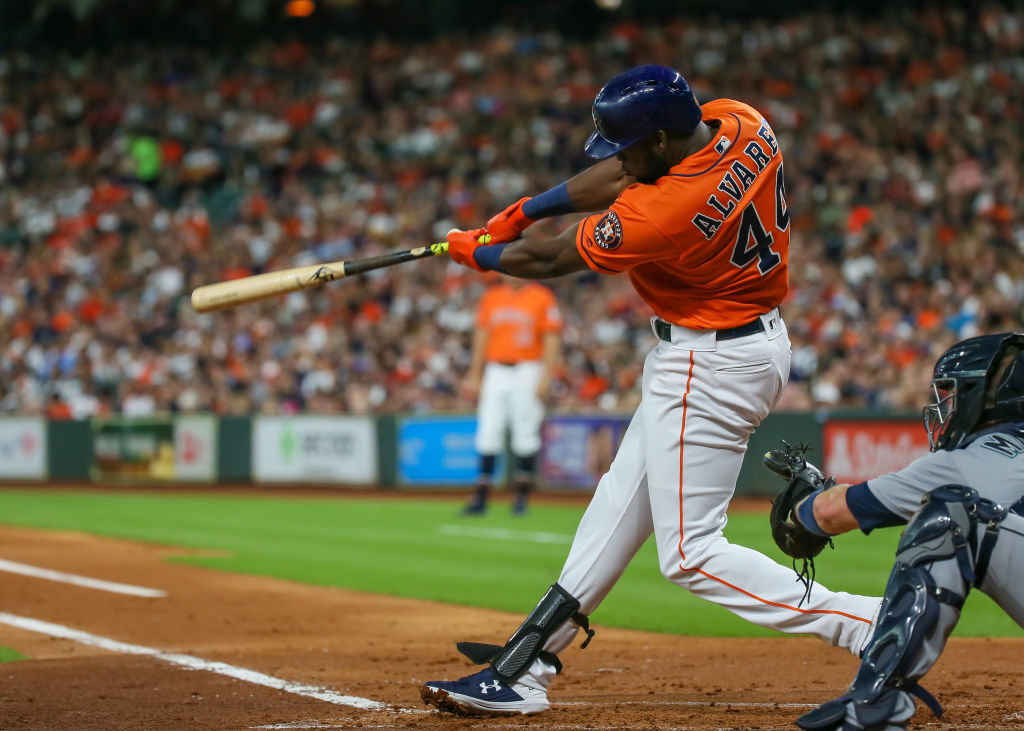 NL ROY- Alsonso
The Home run Derby was the Vlad Guerrero Jr. and Joc Pederson show with them trying and breaking records early, but the former Florida Gators Pete Alsonso came out of it as the Winner. Pete Alsonso has been dominating pitchers in his first year in the league as he is leading the MLB in home runs with 50. He also is hitting .264, 115 RBI, .363 On-base percentage and 1 stolen base. He is struggling when he doesn't hit it out of the park with 172 strikeouts and only 151 hits. He deserves this award being the home run leader as a rookie but needs to work on his contact and not strike out as often to become one of the baseball All-stars.
AL Cy Young- Justin Verlander
It's not often that the Cy Young award comes down to teammates but that's the case this season with Houston Astros Gerrit Cole and Justin Verlander. Tampa Bay Charlie Morton tried his best to keep it in Tampa with Blake Snell winning last year, Morton has a 15-6 record, only allowed 15 home runs, 231 strikeouts, and a 3.15 ERA. Former Minnesota Twin Lance Lynn is also in the conversation even though a year ago with the Twins he had 5.10 ERA in 20 starts. Lynn current has 3.76 ERA, a 15-11 record, and 236 strikeouts. This race between Cole and Verlander is up for grabs, and I'm giving it to Verlander. Verlander has 17 more innings and a 2.57 ERA (Cole 2.61), 20-6 record (18-5) has a better WHIP and fewer walks. Cole has more strikeout in fewer innings but has allowed more hits. Verlander has been more dominant this season, but this 1-2 punch the Astros have has dominated all season.
NL Cy Young- Jacob DeGrom
Back to Back for Jacob DeGrom for the Cy Young, the Mets will miss the playoffs again but they have the best pitcher in the National League. DeGrom has a 10-8 record (bad team) a 2.51 ERA, 248 strikeouts, 19 Home runs allowed, and a 0.99 WHIP. Nationals Teammates Scherzer and Strasburg both have a argument, as Strasburg has a 17-6 record and a 3.37 ERA. Scherzer has a 10-7 record, 2.81 ERA, 1.03 WHIP, and 233 strikeout in only 166.6 innings. The Dodgers have a talented duo as while with long time ace Kershaw and new man Ryu. Kershaw having another solid season but not Cy Young worthy, with a 15-5 record, a 3.20 ERA, 1.07 WHIP, 181 strikeouts in 171 innings. Hyun-Jim Ryu would have won this award if he had more strikeouts, Ryu has a 13-5 record, 2.51 ERA, 1.02 WHIP, 24 walks, and a 156 strikeouts in 176 innings.
World Series- Astros vs. Dodgers
The playoffs are all set and the Wildcard games will be the A's and Rays for the AL and Nats and Brewers in the NL. The A's will advance to play the Astros, and the Nats pitching will get them to play the Dodgers. Dodgers and Astros will cruise into the LCS round. The Twins will once again be defeated by the Yankees and the Braves will cruise past the Cardinals. Yankees and Astros will be a long series and a competitive one but the Astros dominating pitching of Verlander, Cole, and Greinke will get them to the World Series. Dodgers will cruise past the Braves and make it to their third straight championship. Dodgers and Astros will meet in the World Series a rematch of 2 years ago but this one will go differently. Dodgers with Ryu and Kershaw against the Astros trio pitchers will make this series go to 6-7 games. The Astros fatigue from the Yankees series and for the Dodgers the third time is the charm and Kershaw can finally add World Series Champion to his Hall of Fame resume.
Winner: LA Dodgers