A bust is a player who was drafted early in the draft and failed to meet expectations. Every season players don't live up to their hype and disappear from the league. Looking at every draft from the 2000s I picked my Top 5 NBA Bust. I looked at what they did in college compared to the pros, who was drafted after them, and why they couldn't figure it out in the NBA. I left some guys off that didn't live up to the hype but had a productive years (Micheal Beasley) or found they way on a roster for a long career (Kwame Brown, Evan Turner). I added two Honorable mentions that are still young in their career but in a few years could easily find themselves on this list.
HM: Markelle Fultz, Josh Jackson
These 2 careers just started but not the way anyone expected. Josh Jackson started out averaging 13.1 ppg his rookie season and was named All-NBA Second-team. After trying to fill in for injured Devin Booker, Jackson found himself on the bench. Jackson then got traded and now in the G-League for the Grizzlies. Fultz was the number 1 pick after scoring 23 ppg game at Washington. Battling a shoulder injury and having trouble shooting the ball, Fultz only averaged 7 ppg his two seasons in Philly in limit action was traded to Orlando. Fultz was "suppose" to be the last piece of Philly puzzle with Embiid and Simmons. Fultz has quietly made a comeback in Orlando averaging 11.7 ppg and 4.1 assists in 22 starts. Both of these guys are still young and have a chance to change what people think of them, but for now, they are on the honorable mention list and slip in the top 10 soon.
10. Wesley Johnson
The first of the Timberwolves draftees on this list is Wesley Johnson the 4th pick in 2010. After two years at Iowa State Johnson transferred to Syracuse and their average 16.5 ppg, 8.5 rpg, and 2.2 apg. This draft class had Cousins (5), Hayward (9), George (10), and like you will see with the rest of the guys on the list who is drafted after you have an impact on your career. Johnson's career has not been all bad but not many highs for him, averaging between 2 to 9.9 ppg and has started 334 of his 609 games in his career. I put Wesley on this list because somehow the Wolves thought he was going to better than Cousins or George. Wesley was supposed to be a top scorer in the league and as he bounced from Minnesota to the suns and stops for both teams in LA and now with the Wizards has never been able to take over the game. Wesley has a decent career to date but still managed to land at 10 on this list.
9. Derrick Williams
The second Timberwolves on this list and drafted the year after Johnson is number 2 pick in 2011, Derrick Williams. After scoring 19.5 ppg, 8.3 rpg at Arizona Derrick was supposed to be the future of the Wolves with Kevin Love. Drafted after Kyrie and before Enes Kanter, Tristan Thompson, Derrick is the only one not in the NBA today. Derrick started 56 games his second season averaging 12.0 ppg. Unforentuly for Derrick that was his best season and was traded to the Kings in the middle of the next season for Luc Mbah A Moute. Then 4 more stops in 4 years Williams now playing overseas averaging 13.4 ppg. Derrick Williams stayed in the NBA long enough to be 9 on this list but being drafted with the second pick he didn't live up to the exception.
8. Jimmer Fredette
After scoring 28.3 ppg, 4.3 apg, and taking over the college basketball world his senior year Jimmer was drafted 10th by the Kings. His Jimmer Range from college didn't transfer to the NBA and only starting 7 games Jimmer average 7 ppg his rookie season. Sadly that was Jimmer's best year and going from bench to bench for a few years he found himself in China. In China, Jimmer has become the star he was in college and even found himself back in the NBA last season for the Suns. Jimmer's college career and oversea career have been one to remember but his struggle in the NBA and being drafted above Klay Thompson who a similar player helped jimmer land on this list.
7. Johnny Flynn
It's not great when you type in the player on google and Johnny Flynn the musician comes up before the one that played in the NBA. Also when you are a point guard drafted before Steph Curry and you are out of the league in 4 years. The Timberwolves drafted Ricky Rubio 5 who was overseas for a couple of seasons and then Flynn 6 before Curry in 2009. Curry won back to back MVP, while Flynn only has started 10 games since his rookie season and average 4 ppg since his rookie season. Flynn averaged 17.4 ppg, 6.7 apg at Syracuse and for the Wolves started every game as a rookie averaging 13.5 ppg. Flynn will always be remembered as the guy that was drafted ahead of Curry and is the last of the 3 Wolves on this list.
6. Dragan Bender
Suppose to be the next Kristaps Porzingis the Suns drafted Dragan Bender the European star 4th overall in 2016 (Jackson was picked 4th in 2017). The 2016 draft with Simmons, Ingram, Brown, and Murray (7) has seen many misses in the NBA. Bender takes the crown for the biggest bust on this list. In 3 season with the Suns Bender averaged 5.3 ppg, 3.7 rpg and starting in 64 of the 174 games. Suns have given up on Bender and traded him to the Bucks where he playing the G-League. Suns aren't the first time to fall for the next European on this list. Bender still has time to turn it around but the Suns and I already have given up on him as he can't produce on a rebuilding team.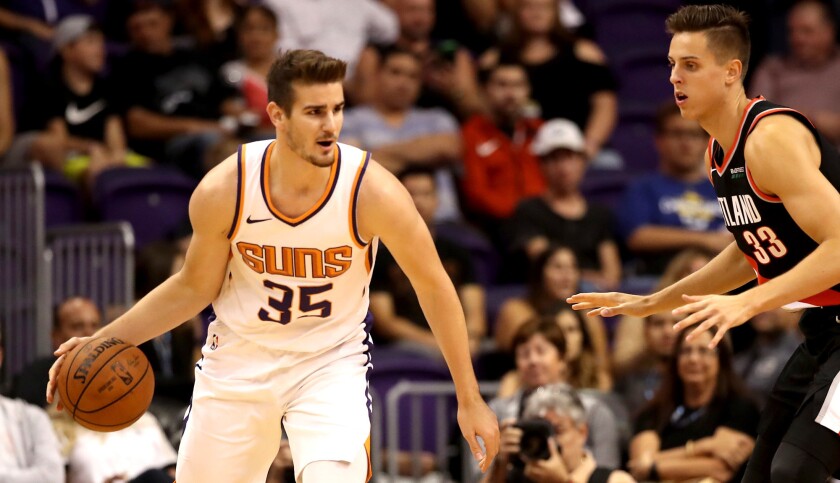 5. Greg Oden
The most notable bust on this list is Greg Oden the former number 1 pick. Only playing in 105 games as a pro and Kevin Durant, Al Horford being drafted after him he still only at 5 on my list. Heres why it's not because Oden couldn't dominate because he did average 8.9 and 11.1 ppg in his 82 games he played his first two seasons. Oden also collected 8.5 rpg and 2.3 bpg in his second season. Oden missed time as a pro because of knee issues and not being healthy. You can blame it on his weight gained reported by the trainer or whatever you want but without the injuries Oden would have been dominating the NBA. I put him 5 because the dude played in 105 games and was bad with he tried to make a comeback in Miami 4 years after last seeing the court. He was productive his first two season on the floor as while as his year in the CBA averaging 13.1 ppg and was decent in the Big 3 league last season. Oden will always be looked at as a bust but for me he's not the biggest one out there and wish he would have stayed healthy.
4. Adam Morrison
During Morrison Junior season at Gonzaga, he averaged 28.1 ppg while shooting 43% from 3s and was named the Co-player of the year with J.J. Reddick. The Great Micheal Jordan drafted Morrison to the Bobcats with the 3rd pick in a very underperforming draft class. Like the Bobcats, Morrison didn't last very long in the NBA. Morrison averaged 11.1 ppg his rookie season but was benched for his lack of defense and scoring the ball 37%. Morrison missed the next season due to a torn ACL and then never found a role in his next few seasons. He did win 2 Championships with the Lakers playing very limited time and then played a couple of seasons overseas. Morrison is currently an assistant coach back at his high school after being a grad assistant at Gonzaga. Morrison made it in the top 5 on this list similar to Jimmer who took over in college never panned out in the NBA and being the 3rd pick has higher expectations. Morrison Gonzaga's career will always be one to remember but his NBA career is one to forget.
3. Darko Milicic
The 2003 top 5 draft picks were Lebron James, Carmelo Anthony, Chris Bosh, Dwayne Wade, and Darko Milicic picked 2nd. The first 4 guys all made NBA All-star teams and will likely be Hall of Famers. The Piston with the 2nd pick took the "next" Dirk Nowitzki and like the Suns, with Bender, he didn't turn out to be the next European star. In Darko rookie season he only played in 31 games and averaged 1.4 ppg but the Pistons did win the Championship that season. Darko averaged 6 ppg in his career and eventually turned into a quality role player. Darko had his best seasons in Minnesota averaging 7.7 ppg, 4.8 rpg, and started 110 of 122 games. Darko career then ended in 2012 after 1 game in Boston and he then started a kickboxing career as while as farming back in Serbia. Darko managed to have a 12-year career but landed highly on this list due to being drafted ahead of Carmelo, Wade, and Bosh who had significantly better careers. Darko being apart of this draft class help him land higher on the list then he expected.
2. Hasheem Thabeet
In the same draft as the Flynn before Curry, we had the Grizzlies take 7'3 Hasheem Thabeet before James Harden. Hasheem junior season at UCONN he averaged 13.6 ppg, 10.8 rpg, 4.2 bpg, had a triple-double with 15 points, 11 rebounds, 10 blocks and was the Big East Defensive Player of the Year. Despite his height and size, he struggled in the NBA with only averaging 2.2 ppg, 2.7 rpg, and 0.8 bpg. He saw limited time in his 7 years and never found a role with a career 20 starts in 224 games. We have seen many centers that stick around in the NBA for there defensive and rebounding skills like Hassan Whiteside, and Rudy Gobert. Hasheem is currently in the NBA G-league and is known for being an NBA Bust. Hasheem finished 2nd on my list based on his size and being drafted ahead of MVP Harden who is currently averaging 38.7 ppg. Thabeet should have at least be in the NBA as a role player being 7'3 but struggled with that as well.
1. Anthony Bennett
The biggest bust of all-time is easily Anthony Bennett the number 1 pick in 2013 by the Cleveland Cavs. A very weak draft class but did include Oladipo (2), McCollum (10), Micheal Carter-Williams (ROY 11), Steven Adams (12), Giannis (15), and Gobert (27). Bennett being drafted number 1 came as a surprise to many scouts, at UNLV he averaged 16.1 ppg, 8.1 rpg, 38% from 3s, 54$ from the field, and he did all that in limited time due to a shoulder injury he averaged 21.7 minutes a game. It is hard to argue that anyone else had a worse career then Bennett in 4 shorts years in the NBA he saw 151 games (starting 4) while averaging 4.4 ppg, 3.1 rpg, shot 26% from 3s, and 39% from the floor. Bennett has seen success winning a Euro title in his season there and in the NBA G-league in his 5 seasons seeing 68 games has averaged 13.2 ppg, 5.6 rpg, 42% from 3s, 49% from the floor. Bennett was cut by the Rockets during training camp before this season and he is currently unsigned. For a guy that was drafted number 1 overall 6 years ago and look likely to be done in the league is very disappointing. Everyone on this list will come to your mind with you think of NBA Bust but Anthony Bennett takes home the crown as the biggest.