The best debate in college football is the best college football quarterbacks of all-time are and I want to give these small Division 1 schools some love and noteworthily. Many of these guys get forgotten because they didn't play at Oklahoma, USC, or Alabama. Many of these guys didn't have careers in the NFL but, we shouldn't forget how good they were in college. I left small schools great Ben Roethlisberger, Blake Bortles, and Alex Smith because they are all pretty big names and were first-round draft picks. My rankings are looking at since 2000 since that's all the football I have seen and the college game as changed over the years. In my top 10 rankings, I will talk about each guys stats and achievements and the most important reason which put them on this list.
10. Brandon Doughty
Brandon Doughty was a 3 star QB that was going to go to Florida Atlantic but switch to Western Kentucky. Doughty redshirted as a freshman year, then he won the starting job after playing in the Navy game throw 12 for 21 for 102 yards. Then the next game he only played in three plays before he went down with a knee injury and some limit time in his sophomore year. He then won the starting job again in his junior year he set many records with 2,857 yards passing, 65.8 completion percentage, and single-game completions and passing yards. Doughty threw for 14 touchdowns and 14 interceptions in that season. In Doughty senior season, WKU moved into conference USA and he broke his single-game completion and passing yard record and only had one game with a completion percentage below 58.3 and passer rating below a 119.9. Doughty was named Conference USA MVP, and the first Hilltopper and 3rd Conference USA QB to win the Sammy Baugh Trophy. Doughty also found out the NCAA granted him a sixth year of eligibility since he missed his freshman season due to injury. Doughty threw for an FBS-lead 4,830, 49 touchdowns, and only 10 interceptions. In his final season at WKU, he threw for 5,055 breaking his single-season passing record and threw for 48 touchdowns. In his last two seasons, he threw for 97 touchdowns most by any QB in two years in NCAA history. Doughty finish top 25 in NCAA history for career passing yards (12,855), passing touchdowns (111) and completion percentage (68.6). Doughty was drafted by the Dolphins in the 7th round of 2016 draft where he spent two years on the practice squad and later cut by the Cardinals. Doughty is one of the college best-underrated QBs and will be remembered at WKU for a long time.
9. Jordan Lynch
Jordan Lynch played for Northern Illinois from 2010-2013 and became a Heisman Finalist his senior year. As a backup his first two seasons he threw for 179 yards, two touchdowns, rushed for 608 yards and six touchdowns. Then when he took over as QB1 his junior season he threw for 3,138 yards, 25 TD, 1,815 rushing yard (QB record) and 19 touchdowns. That earned him 7th in the Heisman voting and he won the Vern Smith Leadership Award, which is the best player in the Mid-American Conference. Then his senior year he threw for 2,892 yards, 24 touchdowns, rush for record 1,920 yards and 23 touchdowns. That earned him third in the Heisman voting and first-team All-American. Along with his rushing yards in a season by a QB record, Lynch holds rushing yards in a game by a QB, and most 100 yards rushing in a game by a QB. Lynch went undrafted and spent training camp with the Bears as an RB, then spent a couple of season for the Edmonton Eskimos in the CFL where he scored to game-winning touchdown to help them with the Grey Cup. Lynch retired from the CFL in 2017 and became a running back coach at NIU and now is the Head Coach at his alumni Mount Camel High School in Chicago.
8. Keenan Reynolds
Kennan Reynolds will never be forgotten in Navy history with his jersey retired and becoming the only QB to go 4-0 against Navy. Reynolds started his freshman year as the 4th string but once starter Trey Miller got injured, Reynolds took over for the rest of the season. His Sophomore year he rushed for 7 touchdowns against San Jose State which is a QB record, and finish the season with 31 rushing touchdowns; QB record. Reynolds never slowed down breaking the rushing touchdown record by any player with 88 and most yards by a QB with 4,559. Reynolds also holds other quarterbacking records including the most career rushing attempts, touchdowns, most rushing touchdowns. Reynolds finished 5th in the Heisman vote which is the highest by a service academy player since Staubach since 1963. Reynolds class won a total of 36 games which tied the 1909 class for wins and he won the Pat Tillman Award. Reynolds got drafted by the Ravens in the 6th round and made the practice squad. Reynolds bounced around from practice squad to practice squad before finally being cut. Reynolds was selected by the Seattle Dragons for the XFL league.
7. Timmy Chang
The opposite of Kennan Reynolds is Timmy Chang who threw the ball for then NCAA record 17,092 yards. In high school, Chang threw for 8,001 yards and 113 touchdowns as a three-year starter. Chang started 50 0f 53 career games at Hawaii, 117 touchdowns (11th), 1,388 completions, 2,436 attempts (record), 2,587 plays (record),16,910 total offense yards (2nd), and 80 interceptions (record). Chang had 6 rushing touchdowns and a 4-time All-Western Athletic Conference player. Chang was named the 2003 Hawaii Bowl MVP, 2004 Co-Hawaii Bowl MVP, and a Johnny Unitas finalist. Timmy Chang went undrafted and was on some NFL preseason teams, was sent to the NFL Europe league and spent some time in the CFL. Now Timmy Chang has been coaching for 7 years currently with Nevada as a Tight End coach. Timmy Chang struggled to land on an NFL roster but showcase his throwing ability in college breaking many records and led the way for Colt Brennan to become a legend.
6. Colin Kaepernick
The most notable name on this list for his role in changing the NFL read-option game and kneeling for the anthem to protest police brutality. I'm not talking about any of that I'm sticking with what he did in his 4 years at Nevada. Despite getting drafted in the MLB he went the football route and was dominate as a back-up in 2007 and as a starter in 2008. Kaepernick won the WAC player of the year as a sophomore in 2008 and as a senior in 2010 was a co-winner with Kellen Moore. In Kaepernick's final game he broke Boise State 24 game win streak and as a senior 2nd QB behind Tebow to throw for 20 touchdowns and run for 20. Kaepernick also became the first QB to throw for 10,000 and run for over 4,000 and tied Tim Couch for rushing touchdowns by a QB. Kaepernick finished his career with 10,098 passing yards, 82 passing touchdowns, 24 interceptions, 142.5 passer rating, 4,112 rushing yards, and 59 rushing touchdowns. The 49ers traded up in the second round to select Kaepernick and proved that Kaepernick made the right choice choosing football over baseball and the rest of his career is history. Kaepernick will always get remembered for his protest but his college years shouldn't be forgotten.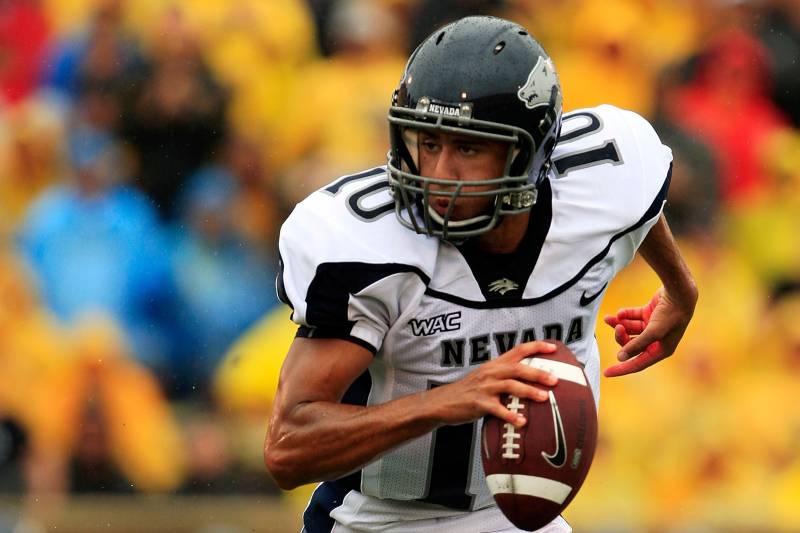 5. Dan LeFevour
Dan LeFevour led Central Michigan University to a final AP ranking his senior year and 3 MAC Championships. LeFevour became the second player in NCAA history (Vince Young) to throw for 3,000 yards and run for 1,000 in a single season as a sophomore. In LeFevour Career he was awarded, MAC freshman of the year, Motor City Bowl MVP, 3-time MAC first-team selection, 1-second team, 2-time MAC offensive player of the year, 2-time MAC Championship MVP, GMAC Bowl MVP, and Senior Bowl North team most outstanding player. LeFevour records in the MAC are career completions, attempts, passing yards, passing touchdowns, total touchdowns, and total offensive yards. LeFevour is the only player in NCAA history with over 12,000 passing yards, and 2,500 rushing yards, and currently 2nd in yards. LeFevour 150 touchdowns (102 passing, 47 rushing, 1 receiving) was a record in 2010 but, he is now 3rd behind Baker Mayfield 153 and the guy that number 1 on this list. LeFevour finished his career with 12,905 passing touchdowns, 102 passing touchdowns, 36 interceptions, 142.9 passer rating, 2,948 rushing yards, and 47 rushing touchdowns. LeFevour was drafted by the Bears in the 6th round and bounce around the NFL and CFL league before retiring in 2018. LeFevour will be a CMU legend and his stats will always be up in the all-time list.
4. Rakeem Cato
Rakeem Cato had a successful career at Marshall and was placed ahead of LeFevour for his passing yards and touchdowns. In his career, he was named C-USA Champion, C-USA MVP, 2-time C-USA offensive Player of the year, 2-time First-Team all-C-USA, Military Bowl MVP, Boca Raton Bowl MVP, and Hardman Award. As a sophomore Cato led the entire NCAA in passing yards per game throwing for 4,201 yards and 37 touchdowns. In Cato's career, he broke Chad Pennington record for touchdowns in a season with 39 and broke that with 40 the next season. He also broke Russell Wilson record for consecutive games with 1 passing touchdown with 39. In Cato's career, he finished with 13,079 passing yards, 131 passing touchdowns, and 44 interceptions, 839 rushing yards, and 15 rushing touchdowns. His 131 touchdown passing touchdowns lands him tied for 4th all-time with Baker Mayfield and the next guy on this list. Cato played a couple of years in the CFL but will be remembered for all his touchdowns with The Herd.
3. Colt Breenan
The 2nd Hawaiian QB on this list is Colt Breenan who had the best 3-year span of any college QB. Colt started his career in Colorado but after an incident was dismissed from the team and transferred to Saddleback College in Cali. There he was named honorable JUCO All-American and state offensive player of the year. Breenan replaced Timmy Chang and didn't miss a beat breaking or tying 11 school records. He led the entire country in total offense (4,455) and passing touchdowns (35). His showcase game was against New Mexico State he threw for 515 yards, 7 passing touchdowns, and 38 completions. His sophomore year he threw for 5,549 yards and NCAA record 58 touchdowns, as while as finish 6th in the Heisman voting (3rd senior year). Colt Breenan finish his career with 14,193 passing yards, 131 passing touchdowns, 42 interceptions, 167.6 passer rating, and 15 rushing touchdowns. Colt was a 2-time first-team All-WAC, 2-time WAC offensive player of the year, 2-time O'Brien award finalist, Sammy Baugh Trophy, Unitas Golden Arm finalist and 2-time 3rd team AP All-American. Colt Breenan is all over the record book despite only starting 3 years, 6th all-time total passing yards (14,193), 4th in career touchdowns (131), 2nd all-time completion percentage (70.6), 7th passing efficiency (186.0), two-season record for touchdown passes (96), single-season passing touchdown (58), Tied for career touchdowns by a QB-WR combo (39 to Davone Bess), most points in a season (385), and most 400 yard games (20). Colt got drafted by the Redskins in the 6th round and had a great preseason but never got his chance. Breenan then played in the UFL, CFL and AFL for the LA Kiss where he got cut because of a brain injury from a car crash. Breenan didn't have the career he wanted after Hawaii but his time for the Rainbow Warriors was one for the history.
2. Kellen Moore
Kellen Moore finished his Broncos career with a 50-3 record and gave Boise State national recognition. In High School, Kellen Moore called his own plays his last 2 seasons and won Gatorade Player of the Year in Washington. He also broke records for completions (787), Touchdowns (173), single seasons for completions (317), yards (4,600), and touchdowns (617). As a redshirt freshman, Moore led Boise State to an undefeated regular season and first of 4 WAC championships and was awarded WAC freshman of the year. In his next season, Moore led Boise to another undefeated season throwing for a school-record 39 touchdowns to only 3 interceptions, was WAC offensive player of the year (1st of 3) and got revenge on TCU (TCU beat Boise his freshman year in the bowl game). In the next two seasons, Moore led Boise to two more great seasons becoming the first QB to win 50 college games and finish 4th (Newton) and 3rd (Luck) in the Heisman voting. Moore finished his career with 14,667 passing yards, 143 passing touchdowns, and 28 interceptions. Moore ended up undrafted but signed by the Lions where he rode the pine for a few years and then went to Dallas where it was the same story. In Moore last season, where he broke his leg when the season started he was the only lefty QB in the NFL. Moore retired in 2018 and join the Cowboys coaching staff as a QB coach and now the Offensive Coordinator for the Boys. Kellen Moore could be the next great Offensive Coordinator in the NFL, but his career at Boise State deserves a statue for making them relevant and winning more than anyone else in college football history.
1. Case Keenum
This is an easy choice to pick who the best non-Power-5 QB is and has a case (get it) to be up there with Tim Tebow for College QB, its Mr. Minneapolis Miracle Man Case Keenum. First I'm just going to go through his NCAA records, career completions (1,546), career passing yards (19,217), career passing touchdowns (155), career games with 300+ passing yards (9), games with 300+ passing yards in a season (Tied-14), seasons with 5,000 (3), seasons with 4,000 (3 Tied with 4 others), career total yards (20,114), and career touchdowns responsible for (178). Now let us look how he got there, he redshirted behind NFL QB Kevin Kolb and won the QB battle couple weeks into his freshman year. As a sophomore, Keenum finished 2nd in total offense behind Graham Harrell, was awarded Conference USA MVP and won Houston first bowl game since 1980. As a junior, he led the Cougars to a 10-4 record including wins over #5 Oklahoma State, Texas Tech, and Mississippi State. Keenum finished 9th in the Heisman voting as he had over 5,800 offensive yards and 48 total touchdowns. In the third game of Keenum senior season, he tore his ACL ending his season but the NCAA granted him a 6th year of eligibility. In Keenum senior season he broke all the records mention above, was Conference-USA MVP, Sammy Bough winner, and finished 7th in the Heisman. Keenum went undrafted and began his journey as an NFL QB with the Rams. After a few seasons Case ended up with the Texans, then back to the Rams, then back to the Texans, he led the Vikings to a 13-3 record when Bradford went down and made the greatest play in NFL playoffs history. After his year of starting, he went to Denver and started the whole season there but after the Broncos got Joe Flacco, Keenum got traded to Redskins and was the starter until he got injured. Keenum NCAA records may not be touch for a long time as he was of college best for 4 years and as an NFL QB will also be remembered for his season with the Vikings.