In 2015 Urban Meyer had a problem every Power 5 team would dream about. Ohio State had 3 quarterbacks who have proved they could be a starter in the Big 10. The problem was that he had to pick 1 to be the starter and like 2 of the better QBs in the country on the sideline. This situation is unique with today QB transferring to find themselves a starting job. Coming off a National Championship Urban Meyer wants to continue to win and has 3 guys capable of starting. Cardale Jones was the only one healthy during the spring game as JT Barrett was coming off an ankle injury and Braxton Miller having shoulder surgery. This could be the best QB room any team ever seen in college football with 3 guys that have all played and proven themselves as Power 5 QBs. I will go through what lead to this historical QB battle, what happened in the 2015 Ohio State season and what each of these QBs done since this season.
Leading up to 2015
Braxton Miller who arrived in Columbus, Ohio first in 2011 as a top QB recruit in the country. Braxton Miller saw time as a freshman and took over in 2012 and became a 2 time Big 10 MVP, as while as 2 times offensive player of the year. Shoulder surgery sidelined him for 2014 which open the doors for JT Barrett and Cardale Jones. Miller redshirted so he could come back for his senior year in 2015. JT Barrett arrived at the campus in 2013 as the 7th best dual-threat QB out of high school. Jt redshirted his freshman year and was expected to be Miller backup until Miller had to miss the entire season. Barrett became the starter and was making a case for the Heisman before he broke his ankle late in the Ohio State-Michigan game. Barrett then finished 5th in the Heisman vote and had surgery so he could be ready for his sophomore year. Cardale Jones landed in Columbus in 2012 and redshirted his first year. Jones did draw attention during his redshirt year when he famously tweeted, "Why should we have to go to class if we came here to play FOOTBALL, we ain't come to play SCHOOL, classes are POINTLESS." Jones barely saw playing time as a freshman and was ready to be Barrett backup his sophomore year. Once Barrett went down Jones came in and finish the win against Michigan and was about to make his first college start in the Big 10 championship. Cardale led the #6 rank Ohio State to a 59-0 win against #11 rank Wisconsin the night before the college football committee first playoff selections. Ohio State made it and Jones was about to make his second start against #1 Alabama. Where he won again and was ready to face off against the Oregon Ducks for the National Championship. Cardale Jones with 280 all-purpose yards, scoring two touchdowns and help of Ezekiel Elliott won the 2015 National Championship. Cardale thought about entering the draft but said he wasn't ready for the next level yet so he was returning for his junior year.
2015 Ohio State Season
Coming into the 2015 season after winning the National Championship Ohio State had 2 time Big Ten player of the year in Braxton Miller, Heisman Candidate and the guy who broke Drew Brees Big ten record in less than 12 games as a freshman. As while as the guy who just went 3-0 against Wisconsin, Alabama, and Oregon and won a National Championship. What makes this so unique is that Miller could have transferred and been immediately eligible as a grad transfer. As well as Jones and Braxton could have transferred and sat a year without losing a year of eligible then be a backup for a season. When the transfer portal now and Qbs transferring more than every I don't believe there will be another situation like this again in football. Miller made this competition easier when he decided to switch to wide receiver. In Miller first game as a wideout, he scored a rushing as while as caught a touchdown. Miller finished his senior year with 26 receptions for 341 yards, 3 receiving touchdowns, 260 rushing yards, and 1 rushing touchdown. Eventually Cardale "12 Gauge" Jones was named the starter immediately before game time in the season opener. Jones started the first 7 games before Barrett took over the job to finish the season. Cardale finished the season with 1,460 passing yards, 8 touchdowns, 5 interceptions, 193 rushing yards, and 2 rushing touchdowns. JT Barrett took over for the last 5 games and the bowl game, as he finished his sophomore year with 992 yards, 11 touchdowns, 4 interceptions, 682 rushing yards, and 11 rushing yards. After the season both Braxton Miller and Cardale Jones entered the draft, as JT Barrett returns for his junior season. The talented Ohio State trio couldn't repeat as National Championship with a disappointing lost to (#9) Michigan State 17-14. Ohio State finished 12-1, after losing to Michigan State, they beat rival (#12) Michigan 42-13 and beat (#8) Notre Dame in the Fiesta bowl 44-28. The Qb room also had LSU current starting Qb Joe Burrow as he redshirted in 2015. This Ohio State team feature Ezekiel Elliott, Micheal Thomas, Joey Bosa and many other NFL players. The greatest QB group (based on each of the guys prove they could play at this level) in college football history couldn't finish as National Champs.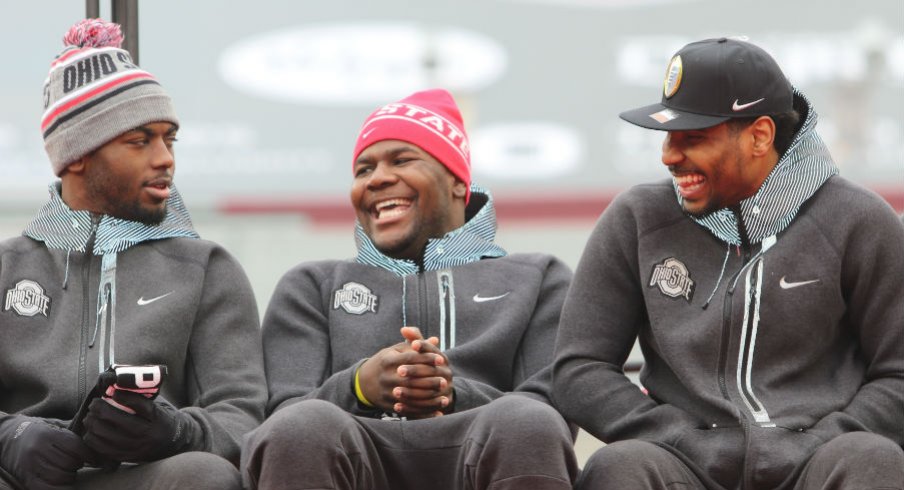 Post- Ohio State
JT Barrett took over as Ohio State starter for the next two seasons and finish with 25 school records when he finishes his career. JT junior year ended with a loss to Clemson in the first round of the college football playoffs, and his senior year Ohio State finished with a 12-2 record a bowl win against USC. Barrett is the only QB in Ohio State history to go 4-0 against Michigan in there career. Barrett went undrafted in the 2o18 NFL draft and was signed by the New Orleans Saints were he spent most of his rookie season on and off the practice squad. He spent this last preseason with the Seattle Seahawks where he was cut once against before the season and currently a free agent. Braxton Miller was drafted in the 3rd round by the Houston Texans as a Wideout. At the combine, he finishes in the top 3 in the 3-cone drill, 20-yard shuttle, 60-yard shuttle. Miller became third on the Wide Receiver depth chart behind Deandre Hopkins and rookie Will Fuller and had an alright first two years with the Texans before getting waived. Miller spent last year on the Eagles practice squad and sign with the Browns before this season. He was then cut on the final cut day and currently a free agent. Cardale Jones was drafted in the 4th round by the Bills even though he only played in 11 college games. Jones only saw playing time in the final game of his rookie season and went 6-11 passing, 96 yards, and an interception. Jones was then traded to the Chargers for a season and then spent a season on the practice squad. Jones is currently on the Seattle Seahawks practice squad. Even though none of the 3 Qb has had a successful NFL career all 3 prove to be college football stars and was involved in one the most unique QB battles in college football history.